Reading Time:
3
minutes
Reading Time:
3
minutes
When you are a blues fan, you have probably watched at least one time the famous Blues Brothers movie. In the movie Jake and Elwood went to pick up Matt "Guitar" Murphy from his wife's famous Blues café "Soul Food". So when EHX invented the Electro Harmonix Soul Food it was very clear fro me to get this pedal.
The exterior of the Electro Harmonix Soul Food
Our pedal comes in the typical Electro Harmonix Look and Feel. A silver metal box and on top you've got a yellow finish with Soul Food in red letters. Looks nice. And it is not heavy at all.
Power and Buffering
The Soul Food draws 22mA at 9VDC with a center negative plug. You can use it with a battery (which is not included, when you buy it. On the other hand a 9,6 V DC is delivered with the EHX Soul Food.
You can open the pedal by removing the four tiny screws. There is a possilibity inside
the pedal to change the buffering mode from true Bypass ot buffered bypass. So this is a nice possibility for everybody to use the pedal adapted to his or her personal needs.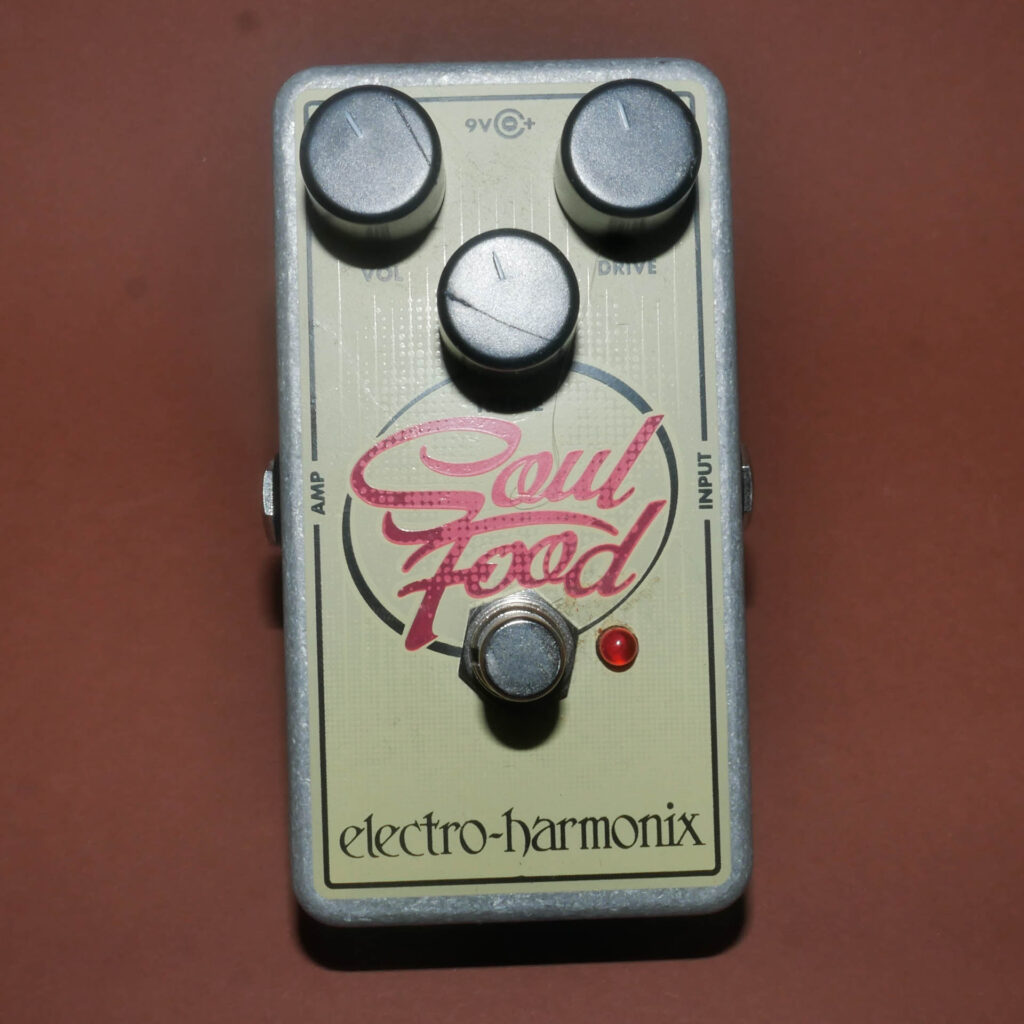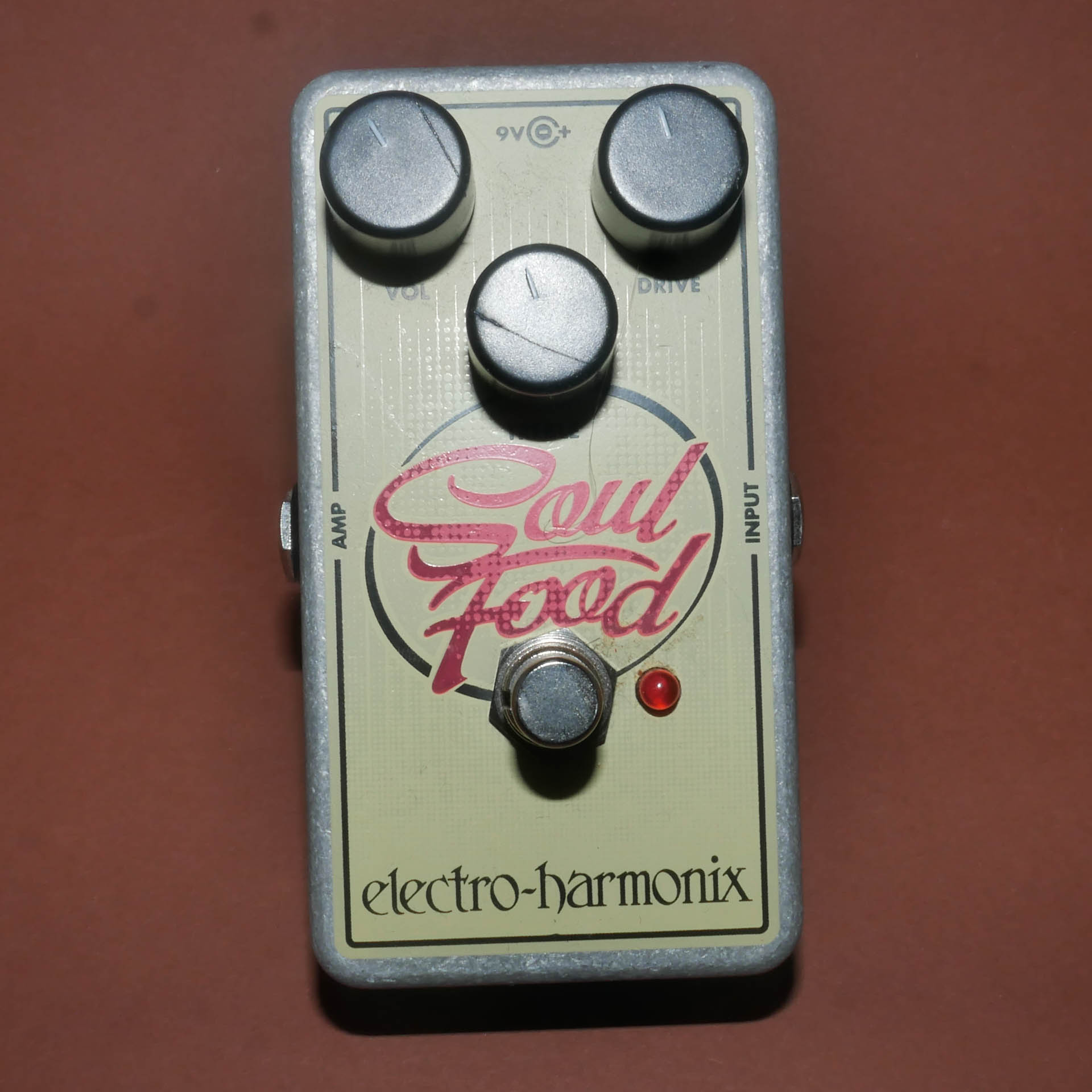 Controls
Volume, Drive and Treble are the names of the three black knobs on top of the pedal. They are easy to handle, not to heavy and not to loose. And you can see the actual setting quite easy thanks to the white marks on top of the knobs.
The sound of the Electro Harmonix Soul Food
What shoul I say? For me it sounds fantastic. Of course it is not suitable for heavy metal guys, who are searching for big gain. It fattens up your sound. You can use it as a booster or a regular overdrive, depending on your amp settings. It fits perfectly for blues, blues rock or classic rock.
Even if you set the drive on zero, you will get a fatter tone, especially in the combination with a tube amplifier. Crunchy sounds are another strength.
Summary of the Electro Harmonix Soul Food
It is a great overdrive pedal. Especially when you look at the price. For around 75 € you get a rich fat one, no matter if you are using the pedal as a booster or as an overdrive. The typical click noises, which you get from Electro Harmonix pedals, are a minor problem.
It is a blues friendly pedal and Jake and Elwood and their guitar players would love it!
Facts
Type: Overdrive, Clean boost
Controller: Volume, Drive and Treble
Dimensions (WxDxH): 70 x 115 x 57 mm
Battery operation possible
Plus
Great sound
Can be used as overdrive and booster
Good quality
Minus
You need quite a lot of pressure to push the pedal
Makes a hearable click, when you hit the switch
Gallery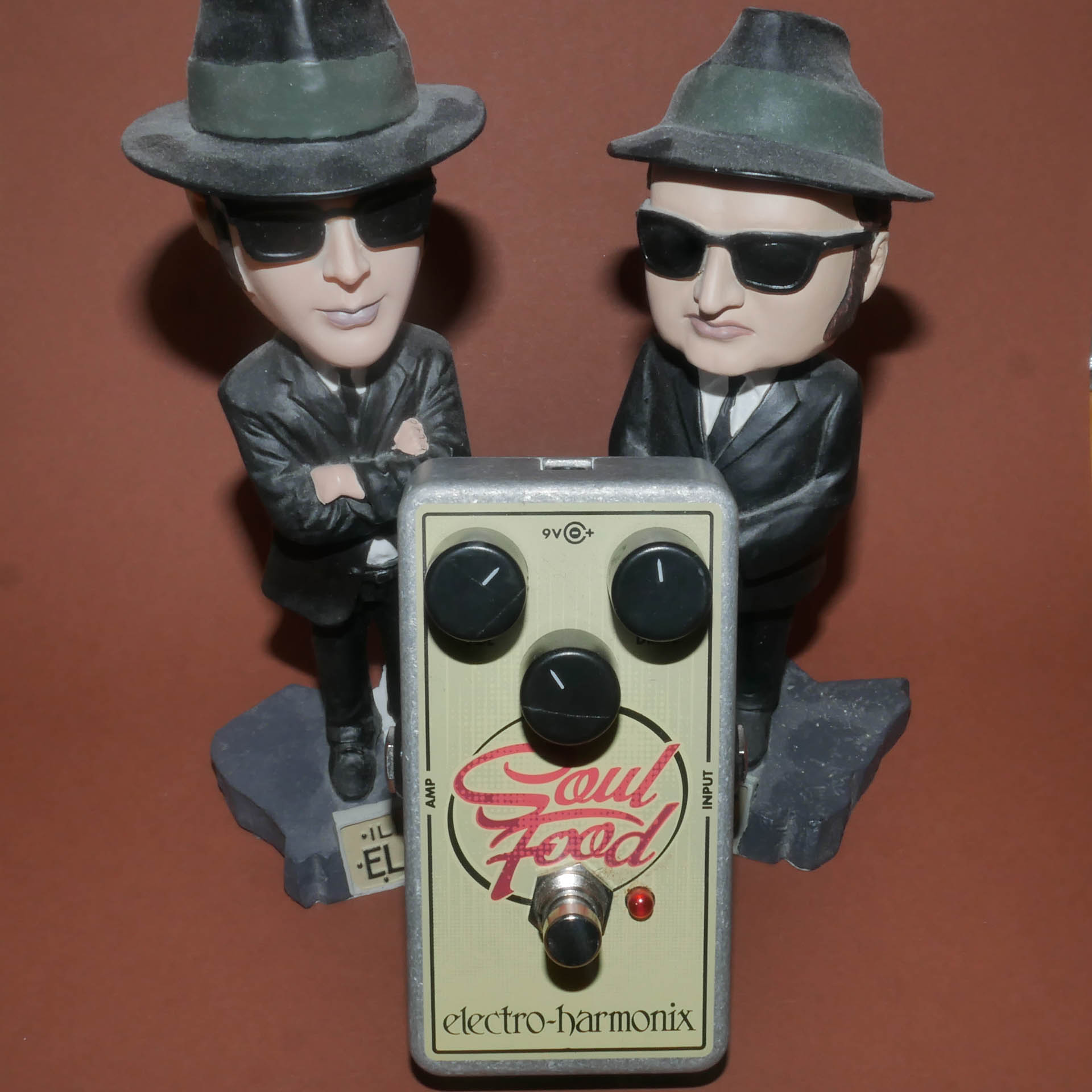 Total 2 Einträge, zeige 10 pro Seite

| Last Name | First Name | Band | Overdrive, Distortion, Fuzz | Compressor | Chorus, Flanger, Phaser | Tremolo, Vibrato | Reverb | Delay | Diverse | Bass Pedals | Tuner |
| --- | --- | --- | --- | --- | --- | --- | --- | --- | --- | --- | --- |
| Fender | Sam | | EHX Soulfood | | | | | Boss DD-3T | | | |
| Sultana | Tash | Tash Sultana | Boss BD-2, Boss ST-2, EHX Soulfood | | | Boss TR-2 | | Boss TE-2 | Boss AW-3, Boss GE-7 | | Boss TU-3 |